Retro USA Chrome
---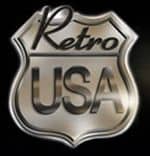 Retro USA
RetroUSA Aftermarket Chrome Bumpers, Quarter Moldings, and Accessories for Camaro, Challenger, and Mustang
The new generation of American Pony Cars have become popular and beloved for a number of reasons. Chief amongst those reasons is the styling of the vehicles. The new Camaro, Mustang, and Challenger each harkens back, respectively, to their classic 60's and 70's counter-parts, and with good reason. The Classic American Muscle Generation of Automotive produced some of the most beautiful cars time has ever seen. If you love the new Camaro, Mustang, or Challenger for taking stylistic cues from those classic cars, but want to take it one step further, consider Retro USA body kit pieces.
Add Chrome to your Camaro, Challenger, and Mustang without having to modify the body pieces in any way at all. Retro USA Chrome bumpers, rocker moldings, and other Chrome Trim pieces will truly complete the iconic classic 1970's look for your American Pony Car. Make your Camaro, Challenger, or Mustang stand out even more from a crowd. Retro USA Chrome Trim Pieces are both beautiful and durable, and fit perfectly on garage queens, show car, and track racers alike. Set your car apart from the crowd even more, and harken back to the iconic 1970's American Muscle Car.
Retro USA is the retro-restyler of the 2005-2009 Ford Mustang, 2008-2011 Dodge Challenger and 2010-2011 Chevrolet Camaro. Retro USA's Accessories feature Chrome-Tech, the newest technology to combine the brilliance of chrome on TPO, the gold standard in automotive plastic . Compared to the chrome of old, Retro USA's Chrome-Tech products will never rust, crack, chip or peel. While the technology is new the look is classic. Our Retro USA Chrome-Tech Bumpers, Quarter Moldings and Rocker Moldings complete the nostalgic look of these three American reborn ponycars. All Retro USA Accessories are easily installed in a matter of minutes using 3M Attachment Tapes. No modifications required! Watch for more exciting retro style accessories.
There are no products matching the selection.