2015-2017 Ford Mustang License Plate Frames
---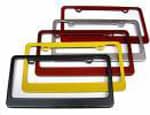 2015-2017 Ford Mustang License Plate Frames
We at Southern Car Parts flaunt a vast collection of aftermarket replacement parts and accessories for the 2015-2017 Ford Mustang and other cars like Camaros, Challengers and Raptors etc. We are a leading online store and we update our stock every week with latest products. Parts with upgraded features are added to the categories every week, so make sure that you check back often to keep up with our new products. Also, we offer 100% original products from trusted manufacturers only, to ensure high quality of all our products. All these products come with light price tags in order to suit all budget sizes.
We're just a tap away to fulfill all your requirements related to aftermarket products. We carry grilles, rockers, hoods, spoilers, head light splitters, blackouts, splitters, license plate frames, Mustang custom LED lights, window louvers, window scoops and almost everything to add to the power, beauty and performance of your car. Mustang has never failed in terms of strength and performance, reason why it's one of our favorites. This fills us with enthusiasm to build something equally good for this beast ride. Our entire range of products is engineered to suit the needs of a Mustang owner. Our range of license plates and frames adds to the beauty of this muscle giant and puts a star of sheer customization to the car.
We have such an extensive range of aftermarket products that if you don't find something at SCP, it's probably not available in the market. We offer free shipping on most of our products and have many more offers running on our website to pamper you. With all these great options to choose from, shopping can get really hassle-free. So think no more and shop for a custom-made license plate or frame for your 6th Gen Mustang. In case you have any queries, please feel free to contact the friendly sales staff at SCP! Browse through our category of Mustang license plates and frames here.
2015-2017 Ford Mustang License Plate Frames
Minimal Price: $ 26.99 26.99