Home

/

2015-2017 Ford Mustang Exterior Parts
2015-2017 Ford Mustang Exterior Parts
---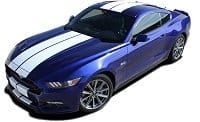 2015-2017 Mustang Exterior Parts & Accessories
If you are a Mustang owner use a stock Mustang it's a great place to start personalizing you come to the right place. We have the next sensitive collection of parts and accessories Ford Mustang so you will be able to personalize the appearance of your car and make it exactly how you wanted to look. We carry things from simple quick and easy bolt-ons like license plate frames to custom skirts splitters and spoilers and more. We carry a large selection of replacement carbon fiber body panels like hoods, fenders, doors, and deck lid's. Replacing your factory parts with these high performance fiber body panels will allow you to save weight and give your car a more aggressive race inspired look. We also have a large selection of skirts splitters and spoilers many of which can be painted to match the exterior color of your Mustang so when they are installed they look like they came that way from the factory. If you really want to add a unique custom touch check out our lighting and blackout kits for the Ford Mustang. We have color changing lights that will be sure to get you noticed at car shows and blackout kits to give your car a unique stealth appearance. Another hugely popular option is a set of racing stripes. If there was car ever designed for two racing stripes it has to be for Mustang a have been installing stripe this since the 1960s and is just as great today as it did back then. Upgrading the exterior appearance of your Mustang and then quickly and easily with parts available here from Southern Car Parts.
2015-2017 Ford Mustang Exterior Parts
Minimal Price: $ 44.95 44.95
You have no items to compare.