2015-2017 Ford Mustang Spoilers and Splitters
---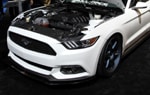 2015-2017 Mustang Spoilers, Wings & Splitters
Although you own a classic muscle car, it's perfectly understandable that you're not happy blending in with all of your other Mustang friends and enthusiasts. Southern Car Parts works hard on helping you stand out in that crowd of many Mustangs. Our line of 2015-2017 Mustang splitters, wings and spoilers will give your car a look that everyone can appreciate. The perfect styling aftermarket Mustang parts are right here in our huge inventory on our website.
Take a look through our inventory, maybe a potent 2015-2017 Mustang wing will give you the vibe that you're looking for. An APR carbon fiber GTC Drag 2015-2017 Mustang wing won't just help you stand out at car shows and car cruises, but are also effective at keeping your Mustang's wheels planted to the ground.
Crush at Car Shows with Our 2015-2017 Mustang Spoilers
If a rear wing isn't really your style, you'll also find that an aggressive 2015-2017 Mustang rear spoiler can also help you accomplish your performance goals. If that's not your style, some of our rear spoilers may work better for your everyday driving situation. A CDC Outlaw 2015-2017 Ford Mustang GT rear spoiler is a great piece for keeping your Mustang looking sleek while also giving it a unique look that performs well at high speeds. Regardless if you're looking for a 2015-2017 Mustang wing that outdoes everyone or you're looking for our 2015-2017 Mustang spoilers to give your muscle car a stylish look; we have the inventory that can help you out.
Also, don't forget about the 2010-2015 Mustang rear window spoiler as somewhat subtle add-on option. With it's easy installation & aerodynamic style, it's a small modification that will add a little extra to the roof your vehicle. Further enhancing this look with Quarter Window Louvers will really add a nice finish that others will be sure to notice.
Looking Bold with a 2015-2017 Front Spoiler
If you need something to go with the bold 2015-2017 Mustang rear wing that you have installed, we have an inventory filled with front splitters that will add to your bold look. When you're at the track, using a front splitter is one of the best ways to utilize downforce for safety and efficiency. There is nothing like a carbon fiber 2015-2017 Mustang front chin spoiler to keep your front wheels planted to the ground at high speeds. They look great on your car, they're useful in competition and an affordable way to help you add a unique look to your Mustang.
2015-2017 Ford Mustang Spoilers and Splitters
Minimal Price: $ 139.95 139.95