2015-2017 Ford Mustang Stripes and Decals
---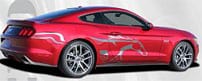 2015-2017 Ford Mustang Stripes and Decals
Do you love the look of your 2015 Mustang but wish you could give it a little more flair? Here at Southern Car Parts, we can help you with that by offering you a whole line of Ford Mustang decals and stripe kits. There is no easier way to add a little vintage flair to your Mustang than with a set of racing stripes or side decals.
We offer a variety of great looking options when it comes to 2015 Mustang stripes. A real popular choice is our 2015-2017 Ford Mustang 10-inch Lemans Dual Racing Stripes Coupe. Big and bold, they travel the whole length of your car, from your front splitter all the way down to the bottom of your rear diffuser. It might be a little too much for some car enthusiast, but if getting noticed everywhere you go is what you're looking for then this Mustang stripes kit is for you. Of course, we have more lower key options. For the less in your face custom Mustang stripes, you might like our stripe package that only starts at the top of the hood and goes to the windshield. These stripes don't even flow to the roof or deck lid. These should be a quick and easy install and are great if you're just looking to add a little fun to your Mustang's look.
Add Style with 2015 Ford Mustang Decals and Stripe Kits
Traditionally, most people think of strip kits as a set of two stripes running down the car, but there are other options. The 2015-2017 Ford Mustang Median Stripe Kit offers you one big stripe plus two pinstripes on both sides of it going right down the middle of your car. These Ford Mustang decals offer you a little different twist on hood and deck lid stripes. If big thick stripes aren't what you're looking for but you still want a set of 2015 Mustang stripes to travel from your front splitter to your rear diffuser, we have a set of Narrow Twin Full-Length Stripes Kit for both standard and GT350 Mustangs.
Mustang side stripes are always an option when it comes to breaking up the base exterior color of your car and adding some cool accents. Side rocker stripes look great on any car. They're not so big and bold but they are easily seen and look very sleek. Some of our other bolder side stripe kits actually go quite well when matched up with our 2015 Mustang stripes for the hood. When done correctly, your whole Ford Mustang decals and stripe look can kill at car shows. But it's all about making sure you don't go overboard, too much can actually kill your chances of people being impressed with your customizing.
Most of our vinyl custom Ford Mustang decals and stripes are made from 3M, a leader in the industry when it comes to stripes and decals. They're basically easy installs, but if you don't have any experience in this area, you might want to seek out some help. There is nothing cool looking about having a Mustang stripes kit on your car that has bubbles in it or even worse looks crooked.
Take the step to make your Mustang look a little different. Even if it's just simple Mustang windshield decals, sometimes all it takes is small things to help you stand out a little bit. Give us a call here at Southern Car Parts, we'll help you find the perfect Ford Mustang decals or stripes that fit your car the best.
2015-2017 Ford Mustang Stripes and Decals
Minimal Price: $ 19.63 19.63