2015-2017 Ford Mustang Misc Exterior Accessories
---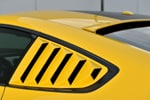 2015-2017 Ford Mustang Misc Exterior Accessories
At Southern Car Parts, we have a large variety of exterior accessories for the 2015-2017 Ford Mustang. This is to make sure that we have something for every customer that visits our online store. We are an aftermarket where you will find everything ranging from splitters and spoilers to window scoops and headlights. All these products are from the house of renowned brands, which ensure great quality and warranty.
Customization of cars is a trend that is exciting the whole world. In this race of displaying the most unique looking cars, do not let your 2015-2017 Ford Mustang get left behind. Our most excellent sets of accessories are stocked up weekly so that we by no means get out of stock. Mustang is known for its powerful performance and these handpicked accessories will enhance its strength. It is like adding a new life to the car altogether. From adding a simple change to your 2015-2017 Ford Mustang to giving it a complete makeover, all is possible with Southern Car Parts products.
The accessories that you will see in our online store are 100% genuine and ensure what they claim. You will not believe that simple and small changes like a new fuel board or painted window louvers can add a fresh appeal to your 2015-2017 Ford Mustang. Or why not give your beast a head to toe makeover? The choice is yours! Because we are giving you ample of options to choose from for your 6th generation Mustang. In case you have any queries, let us know. Our customer care executive will get in touch with you to clear all your doubts. No matter which part of the world you are ordering from, we will ship your order to you, and that too for free. Take a look at the miscellaneous exterior accessories here.
2015-2017 Ford Mustang Misc Exterior Accessories
Minimal Price: $ 29.00 29