Camaro Body Kits and Kit Pieces
---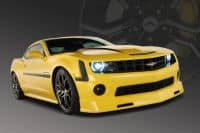 Shop Chevy Camaro Body Kits
Your Camaro is one of the boldest looking sports cars on the road, and its high horsepower output and great sound just adds to its ability to demand attention. But like every car enthusiast knows, there is always room for improvement. At Southern Car Parts, we offer a full inventory full of hoods, front splitters, side skirts, spoilers and many other aftermarket parts so you can complete an outstanding Camaro wide body kit look.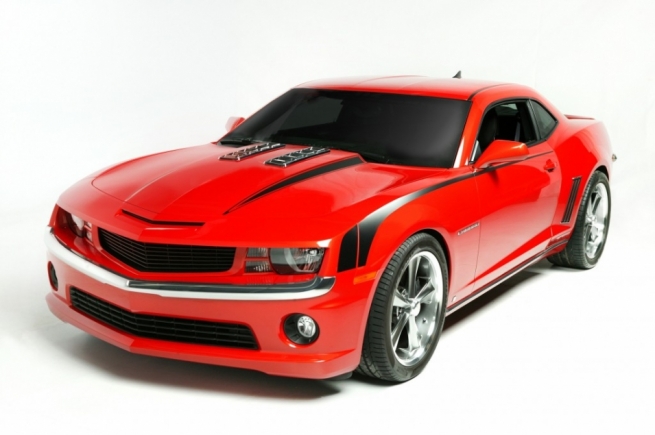 To start a Camaro wide body kit look, most car enthusiasts will agree you have to start with the front end. By installing products like a race car looking front splitter and a mean aggressive looking hood, you can really put your 5th Gen Camaro body kit on the fast track to being one of the best looking Camaros around. We offer plenty of hood options like our 2010-2013 Camaro Specter Werkes GTZ Extractor Hood and our 2010-2013 Camaro RA Style Carbon Fiber Hood. The bolder you go, the more the front of 2010 body kit will look completely mean and ready to race. Our front splitter options are much the same. Our 2010-2013 Camaro Havoc Chin Spoiler is a great way to widen up and lower the look of your front end. The lower and bigger your front end looks, the more likely you are going to get more looks at car shows, cruises and race events. You might also fall in love with an APR front splitter with reinforced support bars. If anything looks like it is ready to hit the streets hard or the track hard, these carbon fiber front splitters do the trick.
Add Style with Chevy Camaro Wide Body Kits
To put together a really nice 2014 body kit look, you can go with a set of side rockers and a set of rear bumper side extensions from ACS. All side rockers and rear bumper side extensions help your car look lower to the ground without actually lowering the car. It's a nice touch that adds character and takes about 3% of the work to install opposed to installing a lowering kit. To go along with that sleek looking 2015 body kit look, a set of 2010-2015 Camaro 3D Carbon Side Fender Vents are a great way to go. These parts are also an easy install that adds something extra to your fenders that Camaros don't come with stock. Same goes for a set of Xenon painted quarter window side scoops. An easy install that doesn't come stock on any Camaro and will add tons of unique power to your Chevy Camaro body kit. All you have to do now is add in a set of Xenon painted rear fender body scoops to cover up the non-functional triple grille look that just about every Camaro comes with and you will be catching attention everywhere you go.
If you really want to catch the attention of all car enthusiasts and really fill out that Camaro wide body kit look, then look no further then our rear spoiler collection. A 2010-2013 Camaro Havoc Rear Spoiler can make or break the way your body kit looks. You have to pick one that runs seamlessly with the way the rest of your car flows. Our selection of painted and carbon fiber spoilers offers you the ability to choose the right one. Whether you need a bold high-lip spoiler or one that runs smoothly off your rear deck lid, you will find one here that can match the rest of your car's styling. We also have rear diffusers like our havoc rear diffuser that can add just as bold of a look to the rear of your Camaro as the modified front end of your Camaro to make a complete 2010 body kit look that would make even the non-Camaro lover drool.
Browse our website to find everything you need to make your Camaro wide body kit fit your personality. We have carbon fiber, polyurethane, fiberglass parts and more. Whether it's stripe decal packages or a convertible sport bar kit, if you want to make your Camaro the most unique Camaro that hits the streets in your town, give us a call here at Southern Car Parts and we can help you find that perfect look.
Camaro Body Kits and Kit Pieces
Minimal Price: $ 45.28 45.28