Corvette C6 2005-2008
---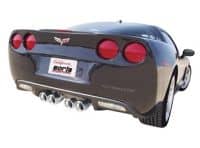 2005-2008 C6 Corvette Exhaust
Choose 2005-2008 C6 Corvette exhaust products from Southern Car Parts. We sell a wide range of 2005-2008 Corvette C6 exhaust parts and accessories that can help you boost your vehicle's performance.
A new Corvette exhaust system will help you get more out of your vehicle. Aftermarket exhaust systems increase airflow, providing greater torque and horsepower. They can even enhance exhaust tone. Whether you're looking for a deep, powerful exhaust tone or one that is clean and precise, Southern Car Parts can help you find the C6 exhaust system to deliver the right results for you.
Adding a free-flowing exhaust system in a popular modification for Corvette C6 owners. With an Akrapovic or Borla exhaust, you can enjoy an unprecedented driving experience.
Our Corvette exhaust systems will give your vehicle an additional 10 to 12 horsepower too, and they are always installed behind the catalytic converter. This means you'll never have to worry about passing emissions.
Our 2005-2008 C6 Corvette exhaust systems consist of high-grade materials for exceptional quality. Plus, our products come from top brands to guarantee you can reap the benefits of our exhaust parts and accessories for years to come.
Explore Dozens of Outstanding Corvette Exhaust Systems from Southern Car Parts
Finding a 2005-2008 C6 Corvette exhaust can be an uphill climb, particularly for those who are searching for exhaust parts and accessories for the first time. Fortunately, Southern Car Parts simplifies the process of locating and buying Corvette exhaust components.
For years, we have served as a leading supplier for all of your 2005, 2006, 2007 and 2008 Corvette exhaust parts and accessories. We constantly go above and beyond the call of duty to update our 2005-2008 Corvette exhaust inventory. Also, we only sell the latest and greatest products, so you should have no trouble discovering the right products for your vehicle.
In addition, Southern Car Parts stands behind the Corvette exhaust systems we sell. Our products are backed by our team of automotive experts who are happy to respond to any questions. That way, if you need assistance during your search for 2005-2008 Corvette exhaust parts and accessories, we can help you at any time.
Buy an Exhaust System for Your 2005-2008 Corvette Today
Ready to upgrade your 2005-2008 Corvette exhaust system? Select Southern Car Parts, and you can enjoy an unparalleled shopping experience.
Southern Car Parts is a leader for all 2005-2008 Corvette exhaust components. Whenever you shop with us, you are sure to find the ideal C6 Corvette parts and accessories at budget-friendly prices.
Browse our large selection of 2005-2008 Corvette exhaust parts and accessories today.
Minimal Price: $ 29.95 29.95