Corvette C6 2009+ Exhaust
---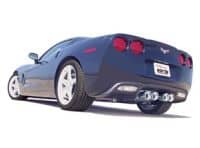 2009-2013 C6 Corvette Exhaust
For 2009+ C6 Corvette exhaust parts and accessories, Southern Car Parts is a must. We sell 2009+ Corvette C6 exhaust components that are simple to install and will allow you to add horsepower to your vehicle.
The Corvette is a powerful car, but the OEM exhaust does not do it justice. As such, installing a free-flowing exhaust system is one of the most common and popular modifications for Corvette C6 owners.
Typically, the OEM Corvette exhaust is docile and does not have the muscle car sound that most Corvette owners crave. Add a Borla or Akrapovic exhaust to your Corvette, and you will have an entirely new experience driving as you listen to the satisfying sound of your powerful exhaust system for your C6 Corvette.
Our C6 Corvette exhaust systems feature exceptional craftsmanship and state-of-the-art designs. That way, these exhaust systems will enable you to get the best results from your 2009+ Corvette. All the Corvette exhaust systems that we sell are installed behind the catalytic converters and will not cause you problems with passing emissions.
Moreover, our 2009+ C6 Corvette exhaust systems are backed by our team of automotive experts. We employ the best and brightest automotive experts to assist customers. As a result, you can receive informative responses to your 2009+ C6 Corvette exhaust questions any time you shop with us.
Enjoy a Terrific Selection of Corvette Exhaust Parts and Accessories from Southern Car Parts
A new Corvette exhaust system will help you get even more out of your already impressive Corvette. Aftermarket Corvette exhaust systems deliver more airflow, leading to greater horsepower and torque. Also, an aftermarket Corvette exhaust will boost your vehicle's exhaust volume and improve its tone.
Southern Car Parts is driven to succeed in all that we do. We prioritize customer satisfaction and will go the extra mile to help you find the right exhaust parts for your 2009, 2010, 2011, 2012, 2013, 2014, 2015, 2016 or 2017 Corvette.
All Southern Car Parts team members possess extensive Corvette knowledge and understand our entire exhaust parts and accessories inventory. They can teach you about the differences and similarities between assorted Corvette exhaust systems and ensure you can make an informed purchase decision.
Meanwhile, our 2009+ Corvette product inventory continues to grow. We stock the latest and greatest C6 Corvette exhaust systems from industry-leading brands so you can purchase outstanding parts and accessories without having to overspend.
Pick Up Corvette Exhaust Components from Southern Car Parts
Want to enhance your 2009+ Corvette's performance? Buy Corvette exhaust components from Southern Car Parts, and you can transform your Corvette into a high-performance vehicle.
We take the guesswork out of locating and purchasing Corvette exhaust parts and accessories and are committed to helping you get the best results possible from your 2009+ Corvette. Choose us for Corvette exhaust products, and you should have no trouble bolstering your vehicle's performance.
Corvette C6 2009+ Exhaust
Minimal Price: $ 29.95 29.95