Corvette C6 ZR1 Exhaust
---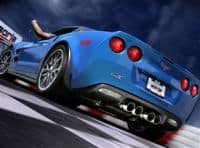 C6 Corvette ZR1 Exhaust, ZR1 Exhaust Systems
Exhaust systems are one of the most popular upgrades almost all car enthusiasts install on their rides. Whether you are looking for a nice smooth engine pur or you want to roar like a lion, changing your regulated stock exhaust is a must. Here at Southern Car Parts, we have the C6 ZR1 exhaust components that can help you achieve whatever sound you are looking to experience from your Corvette.
We only deal with the best brands in the industry — from Borla, Billy Boat and Corsa to MagnaFlow and C6 ZR1 Akrapovic exhaust systems and more. If you're looking for a full exhaust upgrade, you can start with some of our long tube Billy Boat headers. These won't only add some serious torque to your Corvette, they will also add more of a race car rumble that can't be duplicated with a set of stock Corvette exhaust headers.
The Ultimate C6 Corvette ZR1 Exhaust
If you have upgraded your C6 Corvette ZR1 exhaust headers, it might be wise to upgrade the rest of your exhaust system. If you leave the rest of your exhaust system stock, you could be impeding the horsepower and torque gains that the headers are designed to produce for you. Switching over to an aftermarket Borla or Corsa H-Pipe or X-Pipe cat-back C6 ZR1 exhaust system will really help keep the flow of your Corvette's exhaust open. You can open up your exhaust even more with an exhaust system that doesn't use catalytic converters for better flow, horsepower and torque gains.
You don't always have to go for the gusto to get a great sound out of your Corvette. A C6 Corvette ZR1 exhaust axle-back system with a straight through muffler design will give you a deep, aggressive sound when you're heavy into the throttle. And C6 Corvette ZR1 Akrapovic exhaust axle-back system can offer you purge technology in their muffler chambers. This will allow you to still enjoy smooth sounding muffler experience when you're not in the throttle. Although it's nice to hear your Corvette's mufflers scream when you're in the right place at the right time, sometimes it's nicer to be seen and not heard.
Southern Car Parts offers you more than just headers, exhaust systems and exhaust tips. We also offer other C6 ZR1 exhaust products to help you control your exhaust sound. Our mild to wild exhaust systems and controls allow you to decide when it's time to let people know that you are in the area. By using a simple bypass system, you can run your exhaust all the way through the whole exhaust for a nice smooth sound. With the flip of a switch, you can bypass your mufflers for a sound that will make people think you're driving a car that should be at the race track.
For all of your C6 ZR1 exhaust needs, browse our Southern Car Parts inventory, we have the best brands at the best prices.
Minimal Price: $ 29.95 29.95