Corvette C6 Headers
---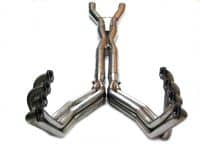 C6 Corvette Headers
Purchase C6 Corvette headers from Southern Car Parts. We offer a massive collection of C6 Corvette long tube headers to help you upgrade your vehicle's performance.
A complete header package allows you to increase exhaust flow leading to greater power and efficiency in your C6 Corvette. It provides a surefire way to boost horsepower and torque across the RPM range, as well as improve your vehicle's exhaust tone and volume.
If you need C6 LS2 headers, C6 LS3 headers, C6 Grand Sport headers or C6 ZR1 headers, Southern Car Parts has something perfect for your 6th generation Corvette. Every header set that we sell will increase the primary collector size and deliver increased airflow, resulting in greater horsepower and torque in your vehicle.
For Corvette American Racing headers, Kooks headers, Borla headers, Billy Boat headers or other Corvette performance headers, Southern Car Parts is your one-stop shop for Corvette products at the best prices.
Our C6 Corvette headers for sale are manufactured by industry leaders. This means our Corvette C6 headers feature outstanding craftsmanship and will maintain their quality for years to come.
We only sell the best headers for C6 Corvette models, and if you need Kooks headers for C6 Corvette models or any other high-end C6 Corvette headers, you are sure to find exactly what you need at Southern Car Parts.
Browse a Large Selection of C6 Corvette Long Tube Headers from Southern Car Parts
C6 Corvette long tube headers are difference-makers, and Southern Car Parts will do everything we can to ensure you can benefit from Corvette headers consistently.
We take pride in offering dozens of Corvette headers for 6th gen Corvette models. Plus, we frequently update our inventory so you can pick up the right Corvette headers at any time.
Southern Car Parts also boasts a reputation as a leader in Corvette parts and accessories. We sell Corvette headers that won't force you to break your budget, either.
Perhaps best of all, Southern Car Parts prioritizes customer satisfaction. Our automotive specialists can answer your Corvette headers queries and will help you understand what differentiates one header part from another. By doing so, you can sort through all of our Corvette header options and make the best decision based on your vehicle needs.
Shop for Corvette Headers from Southern Car Parts
The C6 Corvette is far from an ordinary vehicle and deserves only the best upgrades. Thanks to Southern Car Parts, you can purchase the optimal Corvette headers to take your vehicle's performance beyond your expectations. Southern Car Parts wants to help you streamline the process of locating and buying Corvette headers. To accomplish this goal, we sell the best Corvette headers from the top manufacturers. We also back our products with expert support that is available any time you need it. Check out Southern Car Parts today, and you will find many great Corvette headers at unbeatable prices.
Minimal Price: $ 199.99 199.99