Home

/

Ferrari Akrapovic Exhaust
Ferrari Akrapovic Exhaust
---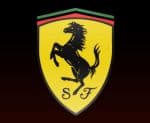 Akrapovic, who are among the world-leaders in top quality all titanium exhausts, produce a line of exhaust systems for the Ferrari vehicles that are without equal. The best cars on Earth deserve the best exhausts, and an Akrapovic exhaust is just that for your Ferrari.
Are you looking for the ultimate in quality and sound with your next exhaust upgrade? If you want an exhaust made with the best materials, engineering, combined with perfect audible nirvana and power improvements, look no further than Akrapovic Exhausts. Made in Slovenia and imported from Southern Car Parts, Akrapovic exhaust systems set the highest standards with quality and design. Most all Akrapovic systems are offered in very light weight Grade 1 Titanium or Stainless Steel. Titanium gives you about a 20-30% weight savings over stainless steel and even more weigh savings when compared to steel. Each and every Akrapovic Exhaust system is truly a work of art and can only truly be appreciated up close or heard in person. Akrapovic only makes exhaust systems for sport cars that true enthusiasts drive. If you car is not listed here, check back, maybe there is an Akrapovic Exhaust being designed for your car today.
Free Shipping

Akrapovic Titanium Slip-On Exhaust System for the Ferrari 458 Italia Maranello has outdone itself once again. The 458 Italia is arguably one of the most impressive road-going cars ever designed. With its lightweight construction, technical innovations, and 570 horsepower, 4.5 liter engine spinning up to 9,000 rpm, it is a driving experience that cannot be easily forgotten. With an Akrapovic exhaust system you can rest assured that you're getting the absolute best available exhaust for your vehicle. For years, Akrapovic has made a name for themselves with professional motorcycle and automobile racing configurations, and they bring this race knowledge to the design and production of their other exhaust systems. The Akrapovic exhaust for the Ferrari 458 Italia provides the vehicle with an unrivaled improvement in exhaust tonal quality that crescendoes beautifully up through the entire RPM range, and the large titanium exhaust tips give the vehicle a more pronounced and aggressive look that is sure to help the vehicle turn even more heads than it already does. In addition to these incredible tonal and appearance benefits, the Akrapovic exhaust will provide your 458 Italia with incredible performance gains through the entire RPM range. With all of these incredible benefits packaged together in a single exhaust system, you can be absolutely certain that you're getting your money's worth when you purchase an Akrapovic exhaust system. Akrapovic systems are the best exhaust systems available on the market, and are made for only the best cars--making them a match made in automotive heaven. To further add to the excitement of this car Akrapovic has designed a completely new aftermarket muffler system crafted entirely of titanium.* Incorporating dual mode exhaust valves, our triple exit system allows for a subdued sound at low rpm (though crisper than stock). However, at higher rpm it fully unleashes the incredible sound of the F1-inspired, high-revving V8. Also included is a new carbon fiber/titanium exhaust tail pipe set. Subtle and understated, the new tail pipe set makes it clear that this is not a standard car. Additionally, we offer optional, lightweight, high-flow catalyst/link pipes. Used in conjunction with the muffler system the sound is even more aggressive, similar to the 458 Challenge Car. The 458 is no stranger to performance. Nevertheless, we have been able to extract further horsepower from this jewel of an engine. With the street legal Slip-On system installed a gain of 9 horsepower and 16 ft/lbs of torque is gained. If the high-flow catalysts are added a total of 11 horsepower and 19 ft/lbs of torque are found. On a car of this design, weight savings are incredibly difficult to achieve. Remarkably, we were able to shave 16 pounds from the stock system. If both the muffler system and high-flow catalyst are utilized an amazing reduction of 31 pounds is accomplished! These weight savings, coupled with the added power and enhanced sound our system offers, makes a marvelous car truly unforgettable. Slip-On system with optional link pipe set**: Titanium link pipes with 200 cpsi high-flow catalysts** Titanium mufflers 3 carbon/titanium tail pipes Hard facts: Plus 11 HP (at 6,370 rpm) Plus 19 ft/lbs of torque (at 2,400 rpm) 31 pounds lighter than stock Slip-On system, homologated: Titanium mufflers 3 carbon/titanium tail pipes Hard facts: Plus 9 HP (at 7,350 rpm) Plus 16 ft/lbs of torque (at 2,420 rpm) 16 pounds lighter than stock Optional: Titanium link pipes with 200 cpsi high-flow catalysts** *A note on titanium: Not all titanium alloys are created equal. Akrapovic titanium exhaust systems are crafted from a proprietary titanium alloy. While our alloy is considerably more expensive and difficult to form than the more common commercial alloys, it ensures a product that is substantially more durable, dimensionally stable, and heat resistant. Unparalleled in quality, all Akrapovic products are designed without compromise to guarantee the utmost customer satisfaction. **When installing an aftermarket Akrapovic exhaust system with sports catalysts, which are developed for use on closed tracks, we recommend remapping the ECU in order to prevent potential engine check light warning signals. **This product is intended to be used only on racing vehicles on closed courses. It is not for use on roads or vehicles otherwise subject to emission control requirements. In California, this product should not be used on any vehicle that is registered or licensed for use on public roads. The technical descriptions of Akrapovic exhaust systems and similar products are subject to changes without prior notification. Images and illustrations may differ. Subject to technical alterations. We are not responsible for the accuracy of the technical data.

Free Shipping

2016 Ferrari 488 GTB Akrapovic Slip-On Line Exhaust AKRAPOVIC HAS DESIGNED AN EXHAUST SYSTEM TO UNLEASH THE FERRARI 488 GTB. THIS FULL TITANIUM EXHAUST WITH OPTIONAL LINKPIPES WITH OR WITHOUT CATS, YIELDING LOWER BACK PRESSURE AND MORE POWER, ESPECIALLY AT LOWER RPMS. As all the Akrapovic exhaust systems it is a completely new design, and will reduce overall vehicle weight and deliver extra power and a sporty sound, which has been tailored to highlight lower frequencies and increase the listening enjoyment of the Ferrari 488 GTB. Increases in both power and torque add to the sensory experience, combined with improved agility. To finish the exhaust it will be delivered with the higest quality carbon fiber tailpipes. The Akrapovic exhausts pay attention to the smallest details. Exhaust systems seem simple at first glance, but after studying the Akrapovic systems there are revealed many important details. Without these details, it would be impossible to achieve, the level of performance and the weight reduction. The Akrapovic design ensures maximum increase in power and torque, with the proven values for noise and exhaust fumes. Advanced Techniques The titatium, which is exclusively used in the Akrapovic exhaust systems, manufactured in accordance with Japanese suppliers such as Kobe Steel. This titanium is stronger and more heat resistant than the titanium which is available on the open market. In addition, the titanium is 40 % lighter than ordinary steel. NIT STOCK AKRAPOVIČ MAX GAIN maximum power kW 485.5 / 7000 rpm 489.9 / 6850 rpm + 5.7 / 6800 rpm HP (m) 660.1 / 7000 rpm 666.1 / 6850 rpm + 7.8 / 6800 rpm HP (i) 651.1 / 7000 rpm 657.0 / 6850 rpm + 7.7 / 6800 rpm maximum torque Nm 742.5 / 5700 rpm 742.5 / 5700 rpm + 6.3 / 5200 rpm lb-ft 547.6 / 5700 rpm 547.6 / 5700 rpm + 4.6 / 5200 rpm weight kg 10.8 7.0 - 3.8 lb 23.8 15.4 - 8.4 % - 35.2 installation time min 300 measured with: Ferrari 488 GTB 2016
Ferrari Akrapovic Exhaust
Minimal Price: $ 7,012.56 7012.56
You have no items to compare.