Akrapovic Car Exhaust
---

Akrapovic Exhaust, Akrapovic Car Exhaust


Are you looking for the ultimate in quality and sound with your next exhaust upgrade? If you want an exhaust made with the best materials, engineering, combined with perfect audible nirvana and power improvements, look no further than Akrapovic Exhausts. Made in Slovenia and sold via Southern Car Parts, Akrapovic exhaust systems set the highest standards with quality and design. Most Akrapovic systems are offered in very light weight Titanium or Stainless Steel. Titanium gives you about a 40% weight savings over stainless steel. Each and every Akrapovic Exhaust system is truly a work of art and can only truly be appreciated up close or heard in person. Akrapovic only makes exhaust systems for sport cars that true enthusiasts drive. If your car is not listed here, check back, maybe there is an Akrapovic Exhaust being designed for your car today.



Words simply just cannot do the Akrapovic systems justice, you have to see and hear for yourself to truly appreciate it.

10 Reasons Why
Akrapovic Car Exhaust

The only way to win is to be the fastest, to be unstoppable, and to be unbeatable in every way. This is the motto of the Akrapovic Company since the very beginning.

1. Only the best materials are used


Two basic materials are used for creating exhaust systems: high grade titanium and stainless steel. The titanium compound is a unique formula manufactured under an exclusive contract by a American supplier. It is therefore much stronger and durable than regular titanium on the free market. The titanium used by Akrapovic is stronger and 40% lighter than stainless steel.

2. Use of high technology in a state-of-the-art factory


Hydroforming is a process of forming header tubes using machines that mould tubes with pressurized water (from 1,000 to 4,000 bars). The material also does not lose its strength in the process. This is necessary because exhaust fumes flow optimally through the tube only when its form is ideal.

3. In-house development and manufacturing – designed and created in the factory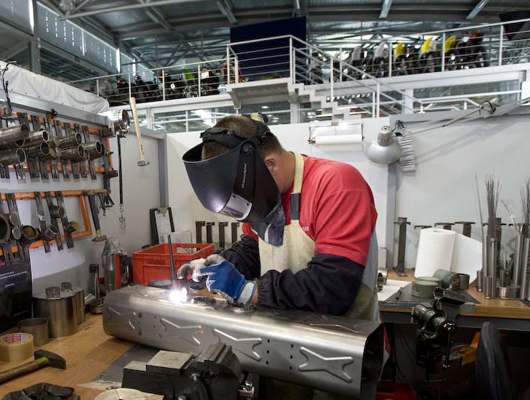 Because we want to stay flexible and independent of outside suppliers and maintain 100% control over quality, we design and manufacture exhaust systems entirety in house. This also allows us to create exhaust tubes to our own specifications, resulting in maximum performance.

4. In-house development


The R&D department is the heart of the company. The skilled and highly motivated team uses state-of-the-art equipment, including three dynamometers, a 3D scanner and a 3D printer that allows the rapid creation of full-size prototypes from ABS plastic.

5. Involvement in racing


Akrapovic works with numerous factory teams and is present in nearly all racing categories. The company boasts a total of 57 FIM World Championship titles and individual victories in car racing!

6. A wealth of experience


Igor Akrapovic's daring vision of industry supremacy was based on his ingenuity to ad cutting edge technical skills and a desire for perfection to the experience gained on the racetrack as a competitor. The excellence of the brand was also corroborated by the fact that in the late 1990's all Japanese teams in the World Superbike Championship used exhaust systems that bore the Akrapovic logo. The turn of the millennium was also a milestone for the company as it gained visibility and became a reference name for quality exhaust systems. The company also made inroads into other segments of the four stroke internal combustion world, last but not least in high performance automotive industry.

7. Innovation in design


Patented hexagonal shaped mufflers caused a storm in exhaust systems in aftermarket industry. The shape transformed the concept of exhaust systems, as it replaced the standard oval-shaped muffler into a designer product that added an aesthetic value to the motorcycle. According to trends, each motorcycle will in the future carry its own exhaust system design.

8. Meeting the most stringent environmental demands


The Akrapovic exhaust systems for road use meet the most stringent norms for exhaust gas emissions and noise. But we did not stop there! Our new manufacturing facility houses a state-of-the-art laboratory, allowing us to meet the conditions for type approval and certificates.

9. Attention to detail


We use hydroformed conical header tubes for optimal exhaust gas flow. Because inner sleeves, flanges, and header tubes are independent, using floating couplings connected with just a couple of springs, the assembly is quick, while reduced vibrations also puts less stress on the material. Systems that use interference crossover tubes or additional chambers have additional reinforcement in order to reduce the possibility of cracking. Using CNC machined sleeve joints, attached together with silicon shielded springs, the highest possible level of compactness of the entire system and constant contact between the tubes is achieved. The interior of the muffler is made using a sandwich construction of stainless steel mesh and stainless steel wool to ensure longevity of the muffler packing interior that guarantees maximum engine performance. Another special feature of Akrapovic workmanship is TIG welding, which is the only way to guarantee the stiffness, durability, and smoothness of the welds.

10. Technology in combination with passion


Akrapovic employees work with a passion. They are levelheaded, have the know-how and are in constant search for technological perfection, which results in victory. But even they cannot win without cutting edge equipment, which is why the exhaust systems developed and manufactured by Akrapovic have been the staple of champions in recent years. And what is available to world champions is now available to all riders.

Minimal Price: $ 6,794.32 6794.32