Misc. Trim and Accessories
---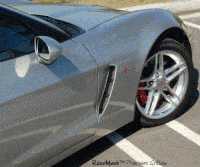 C6 Corvette Exterior Trim
Miscellaneous Exterior Trim Pieces and Accessories for the C6 Corvette
Corvette owners are detail oriented individuals--this love affair with the minutia is a part of what makes them Corvette fanatics in the first place. The Corvette, as a vehicle, pays attention to detail like few others, and provides an automotive package at a price like no other vehicle on Earth. Of course, the base package isn't enough for some Corvette owners, and they want to give their C6 'Vette a custom and unique style build from the ground up, and that's where this portion of the Southern Car Parts Catalog comes in.
Each product in here is designed to provide an extra function or touch that other products just can't do, and each piece is another detail in perfecting your custom Corvette build. We only sell products from manufacturers we trust and approve of, and that's what you'll find here: a great selection of great products to help you finish up the little details on your C6 Corvette.
So, whether it's stainless steel Corvette trim, a Corvette license plate frame, Corvette LED Lighting, Corvette Jacking Pucks, Corvette Touch-Up Paint, or any other Corvette exterior trim or miscellaneous part chances are very good we have it. In addition to selection, we also pride ourselves in quality with our Corvette Exterior trim catalog. Every manufacturer listed in our Corvette Exterior catalog is personally selected due to their commitment to quality. In addition to this quality, we commit ourselves to great pricing also. Shopping in our Corvette Exterior Trim catalog is a comfortable experience since you can be certain we offer the best prices anywhere.
Misc. Trim and Accessories
Minimal Price: $ 7.99 7.99